The Ambassadors... Community Involvement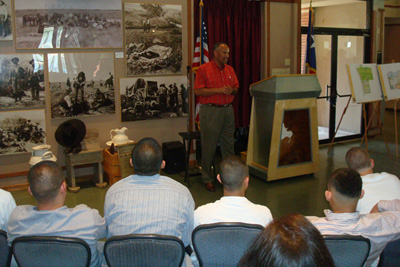 Since 1999, the Ambassadors of Fort Worth have contributed to non-profit and charitable organizations such as the United Negro College Fund (UNCF); the National Association for the Advancement of Colored People (NAACP); Jack and Jill and local churches.
In the year of 2004, the Ambassadors became more actively involved in assisting the needy families in our community by donating food during the Thanksgiving Season and donating food and toys throughout the Christmas Season.
In the year of 2005, the Ambassadors included the Angel Tree Program to our Christmas Project which was a great success.
In the year 2006, the Ambassadors stopped giving food and toys to individual families. It was decided that we could be more effective by donating food and toys to Elementary School children. School counselors were more aware of the needy families because they dealt with these families on a daily basis.
In the Year 2007, we expanded our Outreach Program by adopting another elementary school; I.M. Terrell Elementary. We are presently again expanding our outreach by adopting a total of three elementary schools and making contributions to a local food bank.
In the Year 2008, we became more visible in the community by worshiping with local churches on a quarterly basis and leaving a financial stipend to be used as the church deem necessary.
In the Year 2009, the Ambassadors not only presented our schools with food and toys, but we also presented toys to Fort Worth Baylor All Saints Medical Center, Children's Department, located at 1400 Eight Avenue.
These programs' basic function is to present the Ambassadors to the Community in a positive image, keep club members informed of important items in the community, increase distribution of food and clothing, and visibility of the Fort Worth Ambassador to the local community.
We adopted a two-mile section of Hwy 287 (Mansfield Hwy) from Highpoint Road to Shackelford Street. This is raw visibility to everyone who drives or uses this road. This section of Hwy 287 was kept clean by the Ambassadors of Fort Worth.
The Ambassadors' Motto is living to help others.
Sincerely
Roger L. Robinson
Community Involvement Chairperson